New Publication Is Here
August 2, 2018 at Pioneer Picnic
In association with the Skagit County Historical Society and Skagit County Pioneer Association, the Publication Committee is happy to announce the first print edition of 'Skagit River Journal of History & Folklore 2018' is published and available for sale at the Skagit County Historical Museum and Seaport Books in La Conner. They can be ordered and mailed with our order form here. We have stories on the "50th Anniversary of Skagit County Historical Society's museum building…"on top of the hill" in La Conner; the 135th Anniversary of the formation of Skagit County; Cedardale area of Skagit County; Oral History of Dr. Maynard Johnson - Founding Member of Skagit Valley Medical Center; Harriet Rowley-Angel of Mercy. From local authors; The Journey Toward Home by Arlene Sundquist-Empie, about her early Pioneer Family in the Cedardale area; Henry & Sarah Summers of Fir Island by John Summers; Seven Years of my Life-A Story of Maxine Jones Gow's Tuberculosis Scare as told to Deanna Ammons by Maxine Gow in 2010; A history on Bethsaida Swedish Lutheran Church in La Conner, WA by the late Angelika Anderson Olson. Some wonderful folklore stories by authors old and new, Bard of the North by Ray Jordan; Birth of a Pioneer Baby by Mollie Dowdle; Two Sisters Put Out the Family Wash by Dan Royal. These along with some poetry and book reviews.
Submissions for the 2019 edition of Skagit River Journal will be the end of January 2019. You will be sent a submission form for consideration giving guidelines and permission. You may submit any time for the website. Visit Skagit River Journal of History & Folklore at skagitriverjournal.com, now under the direction of the Society's Publication Committee. John Kamb, Chair and Dan Royal, Editor. Contact the Publications Committee at museum@co.skagit.wa.us or skagitriverjournal@gmail.com
---
Click on photo for newest stories: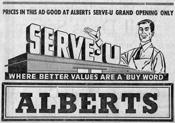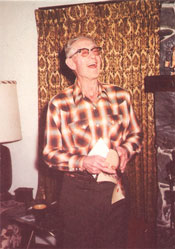 Bob Johnson of Birdsvie
"In 1948, he purchased Van Horn Service, a little store and gas station in Van Horn. Two sons were born to them, Richard, and then Michael, two years later. He ran the store while Harriett had two little boys at home, just down the road from the store, where they have resided for all these years. Soon, the boys were old enough to go along, and she joined him at work in the store, "for just a while." Well, she is still working at age 91, but she doesn't go as early as she used to!! Albert and Harriett had a strict work ethic. The family rule was, and still is: If you are not in the hospital, or dead, you go to work!!"
Excerpt from Albert Franks obit, read more.
---
---
My inquiry to Cliff Johnson solved the mystery of the nickname 'Nanny Bill' pretty quickly, Cliff shared…"I can relate the history. When Billy (Bill's grandson) was a little tyke (maybe 3-4 yrs) and Dad would go to Sedro shopping, at times he would bring back bananas. He'd give one to Billy, who called them nanas, or nannys. And from that, Dad became known as 'Nanny Bill'. And since this was his Grandad, Billy also hung the moniker on his other Grandfather, Jim Wilson. He was known as 'Nanny Jim".
---
CONCRETE HIGH SCHOOL CLASS OF... UPDATED WITH NEW SCANNED IMAGES OF YEARBOOK AND INFORMATION. A GREAT PLACE FOR UPRIVER ALUMNI. Summer 2017
---