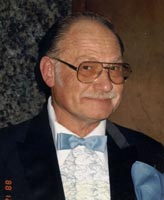 Donald J Hoyt 72, son of the late Bob and Mary Hoyt of Prairie and Sedro Woolley, WA and the grandson of the late Joe and Annie Hoyt of Prairie, passed away in Auburn, WA on January 18, 2002 of lung cancer.
Don was born August 31, 1929 in Sedro Woolley, WA. He was the first baby born in the then, new, Sedro Woolley Memorial Hospital. Don spent his early years in Sedro Woolley, and then in 1932 the family moved to Prairie, He attended Samish Grade School, graduating with honors in 1943, and then attended Sedro Woolley High School, graduating in 1947.
During his junior year, Don applied for, and was accepted into the machinist apprenticeship program at Skagit Steel & Iron Works, following in his fathers footsteps of learning the machinist trade. In 1948, Don completed the apprenticeship program, becoming a journeyman machinist, a trade that he would follow most of his adult life, up until the diagnosis of cancer in the fall of 2001.
After becoming a journeyman machinist. Don went to work for the Northern Pacific Railroad out of Sedro Woolley and later out of North Bend, WA. In 1950 Don moved to Port Angeles, WA to work a "stock share" with his cousin in a plywood mill, and later to the company's Astoria, OR. operation. Due to the timber market, Don left the plywood industry and started driving lumber trucks out of Astoria and Eureka, CA into the southern California markets. Returning to Port Angeles in the mid 1950's where he continued driving truck until his return to the machinist trade several years later, as shop foreman for one of the local log exporting companies. Don was later put in charge of the maintenance department and continued working in the Port Angeles area until the mid 1980's when he moved to the Seattle, Tacoma area, where he held similar positions.
Don was very active over the years in the restoration of old railroad trains, belonging to several restoration clubs. He was also a collector of guns, having many classical rifles and handguns, of vintage age. In his younger days, Don loved to hunt, especially for the Olympic elk, however in his later years, his interest turned more and more to his love of the railroad and the restoration of old railroad trains.
In 1951 Don married the late Betty Lebreck of Port Angeles. In 1982 he married Gerry Mosher also of Port Angeles. Don is survived by his wife Gerry of Auburn, WA, one sister Mary Ann Hoyt Alsid of Enumclaw, WA, one brother Ed Hoyt of Sedro Woolley, WA. Two stepdaughters, Kelly Hoyt Wilde of Tacoma, Terry Lee Hoyt Trettin of Lake Wood, WA, and one son Rob of Arcatia, CA. In addition to many cousins, nieces, and nephews. Don was a devoted husband, father, son, and brother.
In talking about his life shortly before his death, Don said if he would have realized how much there was to learn and how important an education was, he would have gone to school willingly! As it was, "they almost had to carry me in". And if I had it to do over again "they would have to carry me out"!
On hearing of Dons passing, his uncle, Bill Newberg of Reno, Nevada, probably said it best, "Don was quite a man". He will surely be missed by all. (article on Bill Newberg at the "Skagit River Joural" by Noel Bourasaw, just click Bill's name.)



Mary Ann Hoyt Alsid, 71, of Enumclaw, died June 2, 2002, after an extended illness. A resident of this area for 14 years, she was born January 1, 1931, to Bob and Mary Hoyt.
&nbps; She attended school in Sedro- Woolley, WA, and graduated the Class of 1949. She earned a bachelor's degree from Western Washington University in Bellingham and continued her advanced studies at the University of Washington. She was an elementary school teacher for 19 years, 14 spent at Westwood Elementary in Enumclaw. She loved teaching. She also was a member of Trinity Lutheran Church.

She is survived by her husband, Hal, of Enumclaw; sons, Eric Alsid and wife Carla of Auburn, Mark Alsid and wife Tracey, stationed in the United Kingdom with the United States Air Force, and Craig Alsid and wife Loraine of Buckley; brother Ed Hoyt of Sedro-Woolley; and four grandchildren.
She was preceded in death by her parents, Bob and Mary Hoyt; a brother Don Hoyt.
A memorial service will be held at 2 p.m., Saturday, June 8, 2002 at Trinity Lutheran Church in Enumclaw. In lieu of flowers, donations may be made to the American Cancer Society, 728-134th St. S.W. #101, Everett, WA, 98204.