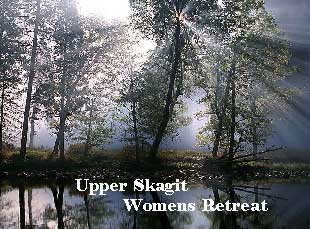 Report on 3rd Annual
Retreat
3rd Annual Retreat
October 4-5, 2002
Currier Hall
Newhalem, Washington





Mission Statement:
To spread the good news of the Lord to women in the Skagit Valley area by bringing them together to nurture their growth in Christ through worship, fellowship and teaching in a non-threatening, fun environment.

e-mail us here
Third Annual Upper Skagit Womens Retreat a Big Success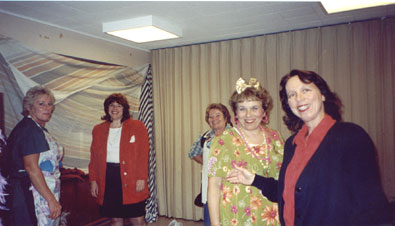 The third annual Upper Skagit Womens Retreat was held Friday and Saturday, October 4th & 5th at Currier Hall in Newhalem. There were forty-four attendees this year, an increase of 18 people over last years retreat. Nine of the forty-four women in attendance participated on scholarships that were part of a grant that was donated to USWR by the local Presbytery. These scholarships allowed women who hadn't previously had the opportunity to attend the retreat to be able to partake in the 2002 retreat. We wish to thank the Presbytery for making this possible.
The theme for our retreat this year was "Fashioned by Grace" so we thought it appropriate that the retreat start off Friday afternoon with a tasty potluck dinner & a fun fashion show with colorful fashions that shared our theme, modeled by the retreat committee members, Naomi, Debbie, Maureen, Veneta and Gladys, assisted by Jodi and Bonnie with music and announcing.
After the fashion show the group was treated to a presentation by Annette Keller our Worship Speaker for the week-end. Annette spoke of how her life and the lives of others were affected " by Grace". The Circle of Sharing wrapped up Friday nights worship time. We all headed for our cozy rooms in the dorm halls and found chocolates on our pillows (ahh.. smile….)
Fueled by a plentiful breakfast Saturday morning and following personal time for hiking and sight seeing, the group shared a morning worship session, including singing worship, with Annette. We then moved on to breakout groups with multiple choices being offered, wreath making, scrap booking, cloth frames, Mary Kay manicures, Hints on Health, and Personal testimonies. Many took advantage of the free time that was available during the day to take walks on the nature trails. Door prizes were given out during the entire retreat with every attendee receiving at least one awesome gift!
The afternoon finished with rousing musical worship and an excellent Worship time shared with our speaker Annette. Lunch and Dinner were cooked & served by the Newhalem volunteer group and included many outrageous desserts. Our goals for next year are to increase our attendance, get more women involved in the planning committee, expand our breakout/craft groups, and continue to bring Christian worship and teaching to our community in a non-threatening and fun way through our retreats.
Watch our website for updates on our 2003 Retreat, which will take place Oct 3 & 4 at Currier Hall, Newhalem. We will begin updates starting the first week in January.
Please e-mail us with comments, suggestions, questions, anything you can think of regarding the retreat. We'd love to hear from you! We'll be happy to respond! Look forward to seeing you in 2003!


2002 Speaker Annette Keller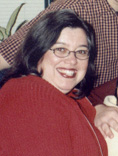 Annette Keller was born in Indiana, the daughter of missionaries to Korea. She was raised in Korea until returning to the US for college. At Taylor University, a Christian college in Indiana ,she earned a degree in Christian Education & met husband , Steve, who was studying for the ministry. She & Steve served United Methodist churches for about 20 yrs, planted a new church with the Assn. of Evangelical Charismatic Ministries & traveled as evangelists for two yrs.
As a pastor's wife, Annette has served in many capacities. In the local church, however, her first love is teaching through Bible classes to youth & adults. They raised two children, Scott & Sheri , who have been active in writing & recording contemporary Christian worship music with Vineyard Music.
Two years ago, Annette & Steve came to Mt. Vernon Vineyard Church for a visit with their daughter & decided to move to the Skagit Valley. After their visit they felt God drawing them to the Valley, packed everything they could fit into their family car and drove across country to start a new chapter in their lives.
At present Annette manages Vitamin World in Burlington and actively serves at the Vineyard church, continuing to "reach forward to those things which are ahead, pressing toward the goal for the prize of the upward call of God in Christ Jesus." (Phil. 3:13-14)














This site Hosted by
The Stump Ranch Family & Community History
of the upper Skagit Valley
© 2002 The Stump Ranch