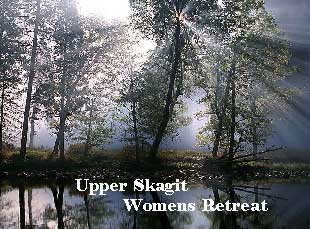 Report on
Fifth Annual Retreat



5th Annual Retreat
Saturday-October 2, 2004
Concrete Community Bible Church
Concrete, Washington




August 9, 2004

Change of Venue
Dear Retreat Participants,
As many of you already know, the dates for this year's retreat were scheduled to be October 1 & 2, 2004. Due to circumstances beyond the control of the retreat committee, we are changing the retreat to one day only, Saturday, October 2, 2004. There has been a change in management at Seattle City Light in Newhalem and they have been unable to guarantee us the use of the facilities for our scheduled weekend. We have been communicating with them about this for the last several months but to date, they are still unable to give us a firm confirmation. Therefore, we have decided that it would be in the best interest of all of us to shorten the retreat, for this year only, to one day.
The location will be in Concrete and very soon, we will be sending out brochures with all the details of place and time as well as the registration form. We ask for your support in this unexpected change and look forward to seeing you at this year's retreat.
Sincerely,
Upper Skagit Women's Retreat Committee




Mission Statement:
To spread the good news of the Lord to women in the Skagit Valley area by bringing them together to nurture their growth in Christ through worship, fellowship and teaching in a non-threatening, fun environment.





e-mail us here






Mark this date on your Calendar : Saturday-October 2, 2004
USVW Retreat at Concrete Community Bible Church, Concrete, WA
Theme for this year: "Let Not your Hearts be Troubled"


We were filled to capacity last year , we want to do it again. Please sign up early!! We'd love to see you!!!
This year we're doing registration a little differently. There will be a 10% discount for Early Bird Registrants, Register by August 1 and full registration for Friday overnight–Saturday day will be $45.00. Register after August 1 and registration will be $50.00. If you are attending for Saturday only the cost will be $35.00 Early Bird Special and $40.00 after August 1. As a reminder, we've changed our format for this year. The retreat will begin earlier on Friday (time still to be determined) with activities/workshops Friday afternoon and evening and our dinner will be catered on Friday night by the Newhalem Diablo Volunteer Fire Dept., no need to bring food for a potluck.
Our speaker, Gail Woodruff, will begin speaking on the topic of "Let Not your Hearts be Troubled" and sharing how this theme is woven throughout her life, after dinner on Friday night. There will be singing worship and a special theatre presentation by the USVWR Group on Friday night, following Gail's talk.

Saturday meals will be breakfast & lunch; Gail will speak three different times during the day with time for discussion following. There will be singing, worship & workshops throughout the day as well. We will finish with a benediction. We plan to get everyone out a bit earlier on Saturday since our main dinner will be served Friday night.
Gail Woodruff, our speaker, currently resides in Anacortes, WA, with her husband, Dwight, and their two children, Nicole and Ryan. Dwight is the minister of New Hope Christian Fellowship, Anacortes, WA. where Gail is worship leader and part of the Women's Ministry. She loves to sing! We are very pleased to have Gail as our guest speaker.

Tentative list of workshops follows:
Meditative Walk
Quilting project
Bible Study
Picture Frame Workshop
Health & Beauty Workshops
Decorate and Build Birdhouses Workshop

Another new aspect to our retreat this year is the ability to offer 15 min. massages for $15.00 to any ladies that are interested. ** Please see the postcard in our newsletter for you to complete and return regarding interest in the retreat, massage, Retreat t-shirts for sale. It is very important that you return these postcards to us as soon as possible to help us in preparing for this years retreat. Thanks in advance for your quick response. Please let us know if any of you are interested in teaching a workshop this year or hosting a class. We are looking for volunteers for photography and video camera as well as helping out with music, lights etc. in the theatre. Please contact Maureen Royal (360) 826-6141 or Debbie Noboa (360) 707-5767 if you are interested in helping. Also, we are planning a few fundraisers to help build our scholarship and speaker funds. If anyone has items available they would like to donate for a garage sale please contact Gladys Silrus at (360) 853-7748, also if you are interested in helping at the sale please let us know. Scholarships for attendance are available now; if you are in need, please contact Naomi Rumpff at (360) 853-8311 or (360) 826-3849.
Anyone having teacups & saucers that they would like to donate for a special project for the retreat please contact Veneeta Sanford at (360) 853-8537.
This year's retreat promises to be more exciting, interesting, spiritual and fun than ever before, we look forward to seeing you there!
God Bless,
Your USVWR Committee
Naomi
Maureen
Debbie
Gladys
Veneeta
Elizabeth
REMEMBER: BE AN EARLY BIRD
REGISTRANT AND SAVE 10% !













This site Hosted by
The Stump Ranch Family & Community History
of the upper Skagit Valley
© 2004, 2003, 2002 The Stump Ranch