© Dan Royal "The Stump Ranch"
Howard Boyd Royal, commercial fishing
in Alaska 1956
---
In the spring of 1956 while visiting his sister Mabel and family in Birdsview, Norm was desperate and in tears to go on an "Alaskan Adventure" with his nephew and grand-nephew, Howard and Phil Royal respectively. Howard tells us in his autobiography, "Where I Was Born, Where I Went From There", that he, Phil and Don Coulter; (who would marry Howard's daughter Beverly in 1957) decided to try their hand at fishing that year in Alaska. Norman, at the age of 72 years with his wife Ada in failing health, decided it was probably not a good idea and let it go at that.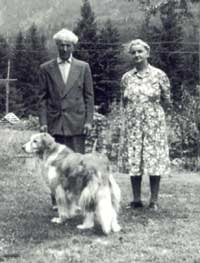 Norman & Ada Boyd
1956
---
A favorite Uncle, Howard remembers his uncle Norm Boyd, had a bushel full of hair his whole life. He loved to hear him tell stories. While Norms sister, Lillie was approximately nine months old, when the Boyd family came to Birdsview from Nebraska in October 1882, Norman Lewis Boyd would be child #10, and the first Boyd child born in Birdsview, Washington Territory, (1 April 1884). His Aunt Etta Savage was probably the mid-wife to her sister Doll [Olive Clara, who Norm calls Mary in his "Boyd Story" directly below].
The following day after Norms birth, his father Alex would make final proof with the U.S. Land Office at Olympia W.T., for their pre-emptive claim, on the property in Birdsview (which was notarized by C. von Pressentin). The family would not stay in the Birdsview area too much longer so Norman started school in the Baker Heights School Dist. # 25 in 1889. Their new home near Barney Lake [sometimes known as Blarney] was close to the Nookachamps Creek, a few miles from Clear Lake which was to the north of them and at the time of brother Tom's birth, a few miles from Mount Vernon. Thomas Jarvis Boyd was born here December 1886 and was probably Norms closest sibling and ally for years.
Older sisters; Annie and Jane, married the Hoyt brothers Joe and Sam in 1890, father Alex decided to make a go of it at the Minkler [Savage] Mill in Birdsview in 1891 (after coming to an agreement with B.D. Minkler). For whatever reason, Norman does not show up on the school census with the other Boyd children, dated 29 June 1891 Dist. #22. Oldest brother Archie is here on the census at age 20 and was probably helping Alex with the mill. Jim is not on the census report either and must have struck out on his own by this time. Jim ended up in Tacoma.
Younger sister, Mabel Florence Boyd, would come into the world 14 November 1891, in what was looking to be an extremely cold winter. Alex packed the family up and went back to the home on the Nookachamp, where the children are found again at the Baker Heights School Dist. #25 (census 27 June 1892). Norm is listed as Lewis age 8; Thomas 6; Lillie 10; Gertrude 12; Mary 13; Grace 15; and Maggie at age 17.
By the time their father Alex Boyd was elected as Skagit County Clerk and the family was living in Burlington. Two more siblings were born, John in 1893 and Nellie 1896. The children were going to school in Burlington Dist. #47 were Mary, Gertrude, Lillian, Norman and Thomas. When their mother, Olive Clara, passed away 7 Sept. 1897, Alex moved himself and the children to Mount Vernon to be closer to the court house and be closer to work until his two year term ended in 1898. The three youngest; Mabel, John and Nellie probably were looked after by Gertrude and Lillian until Alex decided to put the youngest five out to family and friends to be cared for or raised, (after Gertrude married Jim Jackman).


L-R: Joe Hoyt, Earl Hoyt, Norman Boyd 1899. Notice the more moderate crew cut on Norm.
click photo to larger picture
---
Sometime before leaving Mount Vernon, Norm and Tom seemed to have had a run in with the local sheriff who tore up their shirts; for whatever reason. This infuriated the boys father, Alex who let the sheriff in question know in no uncertain terms, that he would replace the shirts for the boys. At this date and time, Norm and Tom then stayed for a time with older sister Annie and Joe Hoyt in Prairie, going by the picture here with the boys at the Hoyt Shingle Co. in 1899. I don't find them on the school census until 1903 where Tom Boyd shows up at age 18 on the school census for Prairie.

Norm Boyd, father Alex Boyd and step-mother Lew Boyd
click photo to larger picture
---
Pictures show Norm at the Hoyts residence through the time of the death of their father; Lewis Alexander Boyd, 13 February 1918. I don't know if, or how long he may have worked for Joe Hoyt at the mill, or what Norm did for a living the bulk of his life. I haven't found a marriage certificate yet to his wife Ada. Norm and Ada appear in pictures together with Tom, who was living in Seward, Alaska; making the rounds to see siblings here in Washington in 1927.
Most of the family were together for a reunion when youngest brother John Boyd came for a visit from Battle Creek, MI. in 1933 in Sumner, WA., at sister Maud's home. Norm was living in North Bend, WA. when he attended Maud and John Johnsons 50th wedding anniversary in 1947. It's assumed Ada had passed away by 1960. They had no children.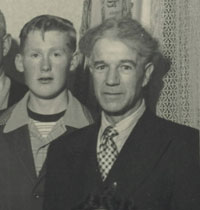 Norm Boyd attending 50th Anniversary of sister Maud & John Johnson 1947. Oldest sister Annie Boyd Hoyts grandson Ed Hoyt directly behind Norm. Ed has been a great help with the family research.
---
In the early 60's, according to George and Shirley (Royal) McLain of Olympia, WA., on the way from his move from North Bend to La Conner, WA. Norm and his sister Mabel, who hadn't seen one another for some time got together for a visit, and when they saw each other they held on to each other the whole time crying and reminiscing. Norm was obviously fond and adoring of his dwindling family. He ended the last years of his life, close to youngest sister in Nellie in La Conner, WA. as the letter below (dated 1964) attests to and felt a need to write the 'Boyd Family Story' as he remembered it. Norman Lewis Boyd passed away quietly in La Conner October 1969, sister Mabel followed a few months later 1 January 1970 in Olympia, WA. Nellie the last of 14 Boyd children passed in June 1976.