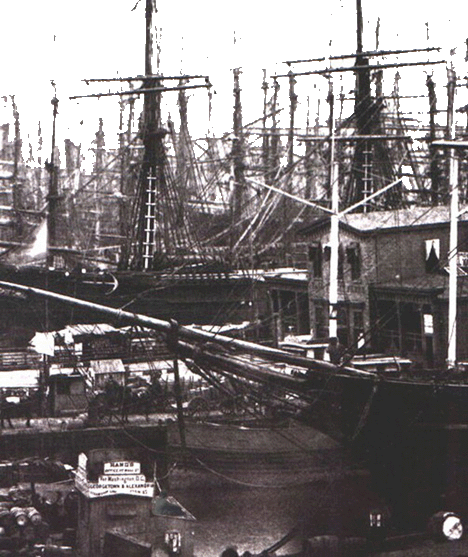 Young Alex Boyd dreaming of Sea

"As a boy, Father's dream was of being a seaman. As he watched the old "Windjammers" of that day sail in and out of New York harbor, he could hardly wait for the time when he would be old enough to sail away to far off places where he had been yearning to go"...quoted from the "History of the Boyd Family" by Mabel Boyd Royal-Steen © 2003, 2002

---
Link here to the Skagit River Journal for the full story
Also "The Boyd Story" by Norman Boyd
---
This is a photo I worked up in Photoshop as it was the same time period of Lewis Alexander as a boy watching the ships in New York harbor, I hope the figure in the foreground on top of the shed is noticable, a young lad I cropped and added to the photo to make it approximatly what Alex would have been looking at before he turned thought into action and stowed away to sea. Ages from family stories vary from age 10-15, which would put the years between 1851 to 1855.
Alex never saw his family again, except for a vision of his mother while he was out at sea. He recorded the time and date in his log; when he tried to track his parents down years later, he found out she died the same exact time he had the vision, he never could explain it.
The photo can be found in the book "New York-An Illustrated History" by Ric Burns & James Sanders; a companion to the PBS series. I couldn't find a name of the photographer to attribute it to.
---