I needed a dedicated place to showcase the vast array of stories, poems, & history written by cousins Catherine Savage Pulsipher & Mabel Boyd Royal.(click link for quick profile) Thanks to Katie and Mabel, Savage and Boyd descendants have an amazing amount of dedicated source material for our family trees.

I've debated quite often with my wife whether or not the modern feminist women could live the life of the pioneer. I personally think it's a myth that the pioneer woman were just subservient little hausfraus to their husbands. The pioneer women weren't always dependent on the men in their life for sustenance, they couldn't afford to be.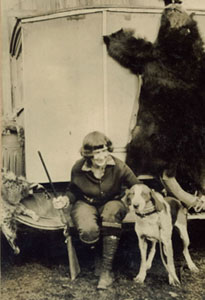 The love of Mabels life, Tom Royal, was a lifetime logger and a bit of a rolling stone. He went to where the work was. Mabel simply got tired of following him with the kids from camp to camp and finally decided to settle down at the place of her birth, Birdsview, Washington. Katie lived the bulk of her life with husband Henry (Happy) Pulsipher, in Bellingham and Birdsview, but didn't let that stop her from being her own woman.
While it is true Katie & Mabel were the daughters of pioneer women, [Read Torrey Girls] they were taught the same survival skills, which you'd be hard pressed to find in use today. Terms I've heard used about the strength and character of these amazing women and their lives have been; hardy, zest for life, adventurous spirit, outdoorsman, delight in their children, love of music, cooks, homemakers and herbalist. Not suffering fools gladly, they both had green thumbs and loved tending their gardens.